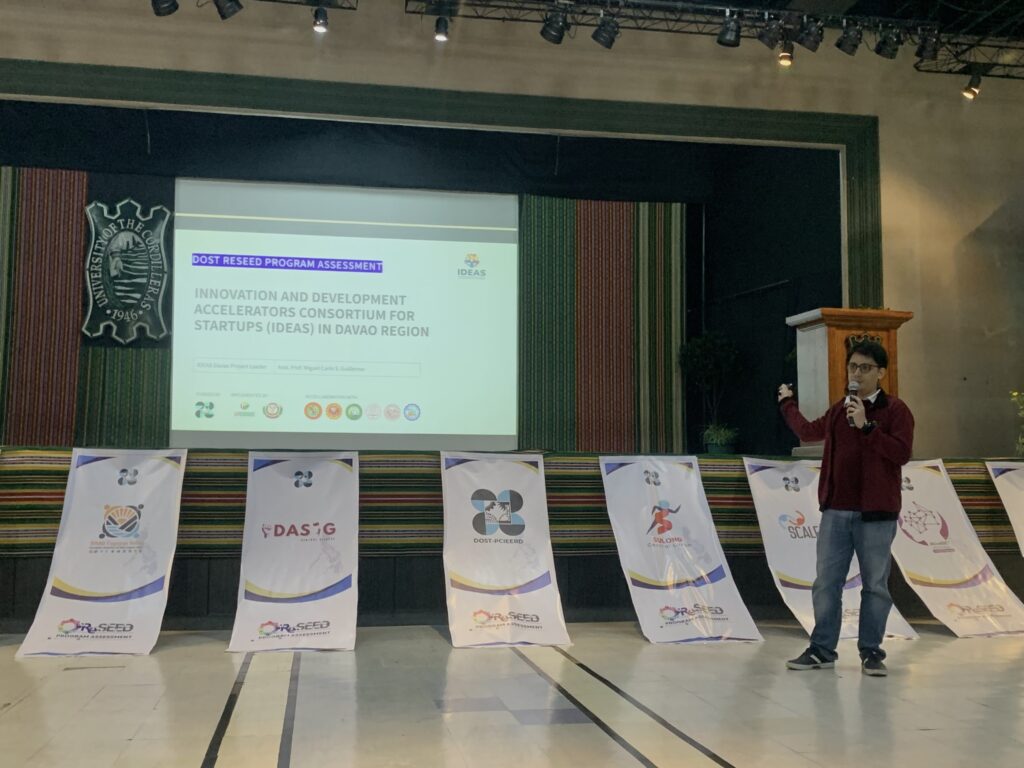 The 2nd day of the DOST ReSEED Program presentations of consortium milestones, best practices, challenges, and ways forward is punctuated by IDEAS Davao represented by its Project Lead A/Prof. Miguel Carlo Guillermo.
Among the accomplishments of the IDEAS Davao are the conduct of startup community dialogues in Davao Region, Davao City Startup Ecosystem Map and Roadmap, technology business incubator (TBI) management workshop, 1st Mindanao TBI Summit, Gender-Smart Business Incubator Training, Impact Investing Webinar with Villgro Philippines, hosting of three proposal writeshop with startups for the DOST Startup Grant Fund Program, 1st Davao-Israel Innovation Night networking event, and the launching of the 1st Davao Startup Week in 2022 with 25 different community partners, 20 Events, 1047+ participants, and reached 1300+ more through various exhibits and collaborative events.
The consortium, through the leadership of the University of the Philippines Mindanao Growing and Developing Enterprises (UPGRADE), also facilitated about P4-million equity-free funding to a local startup in Davao Region.
Albeit the accomplishments, Guillermo also emphasized the challenges hoping to solicit suggestions and learnings from other DOST-PCIEERD-funded consortiums in the Philippines. This exchange of advice and learnings would help IDEAS Davao to improve its implementation of the program and strengthen further the community of startup enablers and ecosystem in the Davao Region.
The second day of the program assessment was also dedicated for a proposal writeshop for the consortiums that would help them access funding for the second installment of the ReSEED program.
ReSEED is a program of the Department of Science and Technology – Philippine Council for Industry, Energy, and Emerging Technology Research and Technology (DOST-PCIEERD) that aims to strengthen the startup ecosystem in the regions by establishing and formalizing a Regional Startup Ecosystem Consortium, developing a regional startup development plan, engaging with more mentors to upskill startups, and partnering with the regional development council.
Candice is an educator, community builder, and Fulbright scholar based in Davao City, Philippines. She lives a double life as a university instructor during the day and a startup ecosystem lead at night. Focusing on building a thriving ecosystem in the Davao Region, Philippines, her interests lie in the intersections of language teaching, policy-making, tech, and business.