The Innovation and Development Accelerators Consortium for Start-ups in Davao Region (IDEAS-Davao) received the full support of the National Economic and Development Authority (NEDA-XI) in a resolution passed by the agency dated December 07, 2021 in the Regional Development Council XI Resolution No. 161 and 163, Series of 2021.
The resolution supported the establishment of a regional consortium for startups in Davao "for exponential growth to access government funding such as Startup Grant Programs" led by the University of the Philippines Mindanao.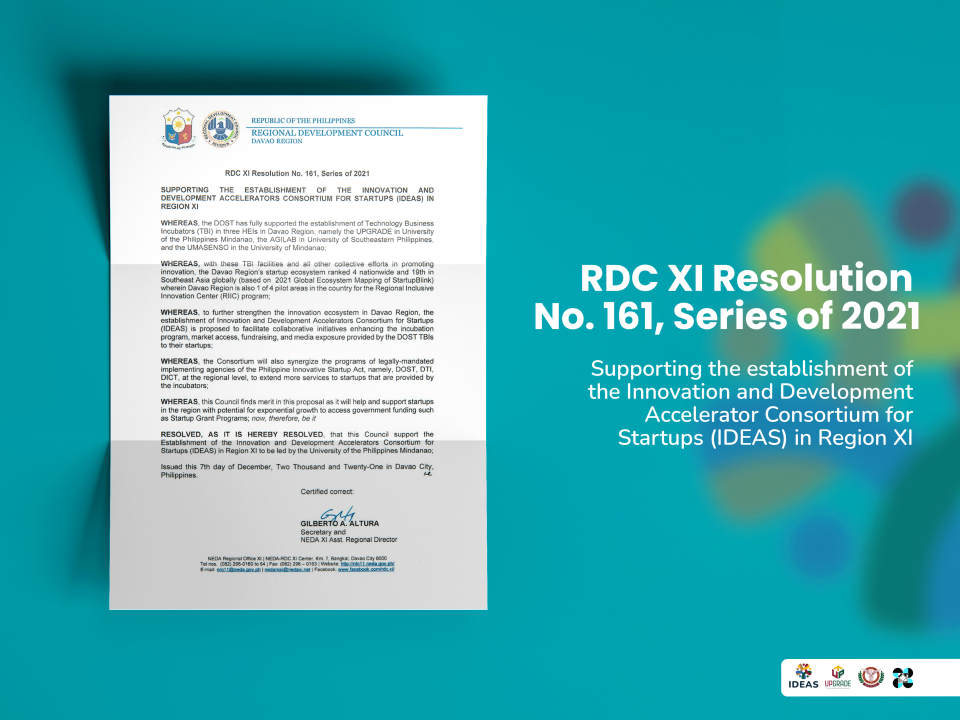 Furthermore, another resolution also approved the regional development research agenda and the 2017-2022 utilization assessment report for the first semester of 2021. Among many priority sectors, this approval aims to expand economic opportunities in Agriculture, Forestry, and Fisheries."
"2021 was a year full of triumphs for us, Davao Region's startup ecosystem ranked 4th nationwide, 19th in Southeast Asia, and 786th globally. We witnessed many of our Davao-based startups flourish in Davao's diverse and demanding economic landscape. With the hard work of our stakeholders, we are gaining traction in many other aspects of business and entrepreneurship, such as in software, data, fintech, and many more. However, this achievement is not without its challenges. We still have a long way to go in terms of building better infrastructure to facilitate startups and lack of support for many budding entrepreneurs," says UP Mindanao Chancellor Larry N. Digal in his opening remarks during a recently concluded event of IDEAS-Davao.
Davao Region is one of the four pilot areas for the Regional Inclusive Innovation Center (RIIC) program with four technology business incubators led by higher-education institutions and multiple new startups.