Technology business incubators (TBIs) from different Higher Education Institutions (HEIs) in Davao Region, spearheaded by UP Mindanao Growing and Developing Enterprises (UPGRADE), recently concluded the Region XI Startup Community Dialogue on January 14, 2022, via Zoom platform.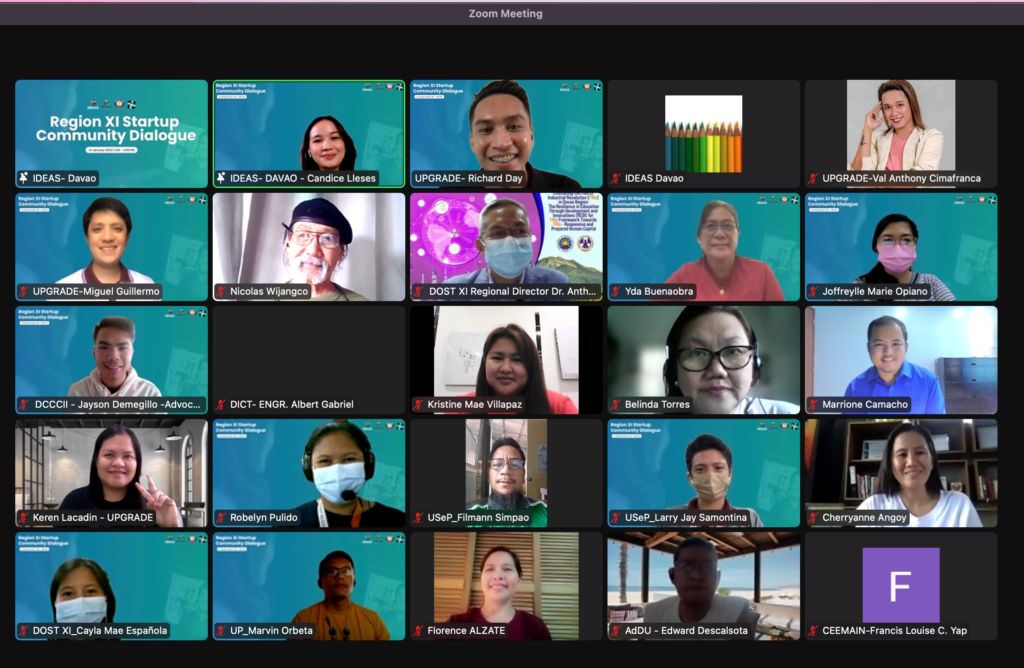 The Innovation and Development Accelerators Consortium for Startups in Davao or IDEAS Davao aims to establish the first Startup Consortium in Mindanao and provide an avenue for incubators, accelerators, government agencies, private sector, investors, and community-based organizations to discuss pertinent issues and address challenges that will shape the landscape of the region's startup ecosystem.
The dialogue was graced by Department of Science and Technology (DOST) XI Regional Director Dr. Anthony C. Sales, CESO III, Department of Information and Communications Technology XI Regional Director Alimbzar P. Asum, CESO V, Department of Trade and Industry (DTI) XI Maria Belenda Q. Ambi, Davao City Chamber of Commerce & Industry, Inc. (DCCCI), Belinda Torres, and United States Agency for International Development-Science, Technology, Research and Innovation for Development (USAID-STRIDE) / Research Triangle Institute (RTI) International Convergence Specialist Adrienne Cacho, and attended by 26 other startup founders and enablers from private and public sectors.
"We witnessed many of our Davao-based startups flourish in Davao's diverse and demanding economic landscape. With the hard work of our stakeholders, we are gaining traction in many other aspects of business and entrepreneurship, such as in software, data, fintech, and many more", UP Mindanao Chancellor Dr. Larry N. Digal said while highlighting Davao Region's startup ecosystem rankings: fourth nationwide, 19th in Southeast Asia, and 786th internationally.
IDEAS-Davao intends to facilitate collaborative initiatives to improve incubation programs, mentoring, networking, fundraising, and media exposure of TBIs for startups, funded by the DOST under the Higher Education Institution Readiness for Innovation and Technopreneurship (HeIRIT) Program.
With the help of IDEAS-Davao, support for startups will be strengthened by aligning programs of implementing agencies under the Philippine Innovative Startup Act, providing opportunities and access for government funding, and acquiring investments from private entities to increase job opportunities and economic development.
Read the full news article on the DOST RXI website here.