The Davao Region Startup Week 2022 is the first region-wide event showcasing the startup community of Region XI hosting various activities that gathers entrepreneurs, startups, investors, government and private organizations, and ecosystem champions.
It aims to mainstream local startups and enablers from the government and private sector supporting the growth of the startup community in Region 11 through programs and policies.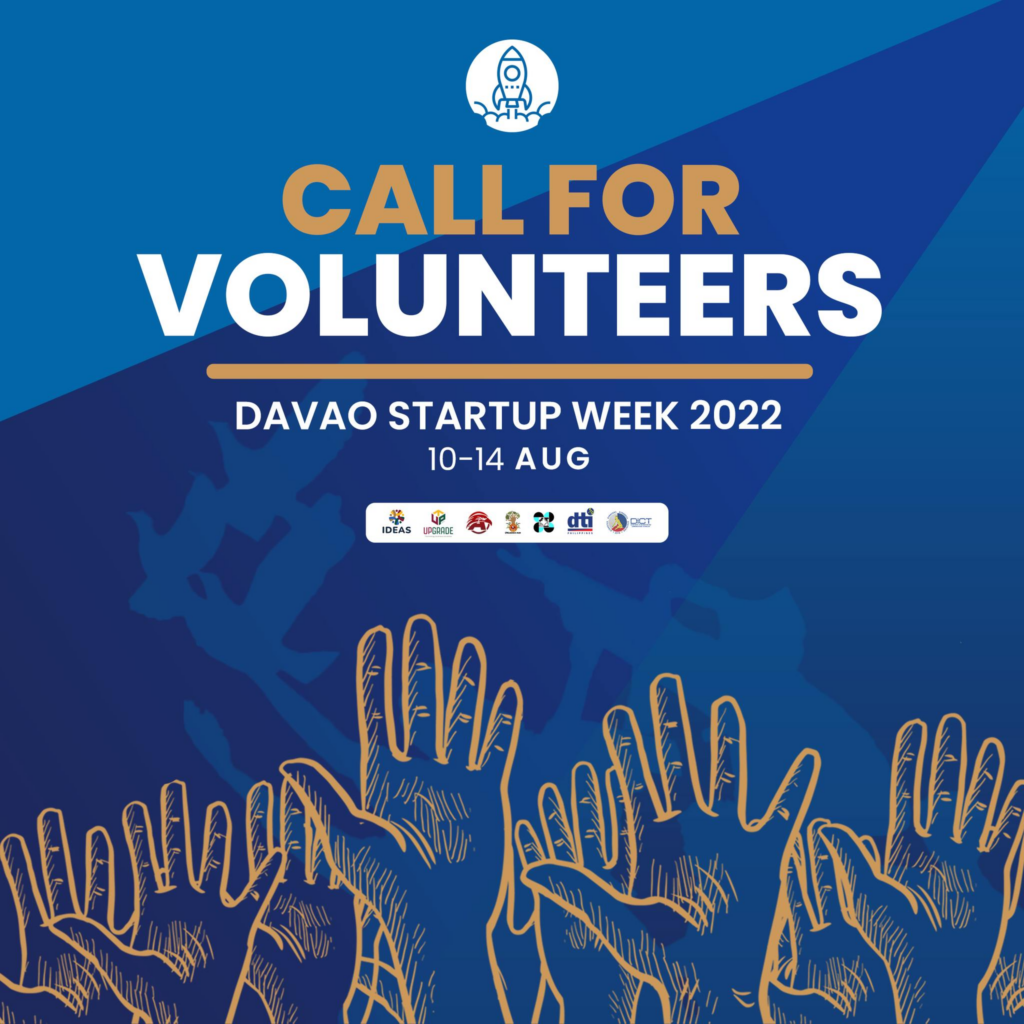 We need volunteers for the following roles:

✅ 1 Communication Lead and 2 Communication Associates
✅ 1 Marketing Lead and 2 Marketing Associates
✅ 1 Creative Design Lead and 2 Creative Design Associates
✅ 1 Event Coordination Lead and 2 Event Coordination Associates
✅ 1 Finance Lead
✅ 1 Sponsorship Lead
✅ 1 Technology Lead
✅ 1 Technology Support
✅ 1 Marketing and Promotion Lead
✅ 1 Mentor and Judges Lead

Why volunteer?

The success of this celebration depends on the people who give their time and effort to make it happen. Being a volunteer is more than paying it forward, it's an important ingredient that makes DVOSW22 a great experience for all its participants.

Who can volunteer?

Anyone can volunteer! Students are encouraged to apply as well.

What's in it for you?

✅ It is a perfect opportunity to connect with the Startup Community of Davao Region. Davao ranked 5th nationwide and 21st in Southeast Asia in the World Startup Ecosystem (Startupblink 2022 report) manifesting great opportunities for investments and talents to build business.
✅ You will meet people across Mindanao and various parts of the Philippines who have been working and supporting the community in growing its startup ecosystem.
✅ You will get a look behind the scenes of organizing one of the biggest Startup events in Mindanao.
✅ We will keep you in top condition, with food and refreshments throughout the event, and you can avoid the lines at the main conference food and drink stations.
✅ You will receive an exclusive volunteer t-shirt to wear at the event and show off in the future.
✅ You will get a FREE ticket to DVOSW2022, which grants you access to the entire event.
Candice is an educator, community builder, and Fulbright scholar based in Davao City, Philippines. She lives a double life as a university instructor during the day and a startup ecosystem lead at night. Focusing on building a thriving ecosystem in the Davao Region, Philippines, her interests lie in the intersections of language teaching, policy-making, tech, and business.